In the realm of entertainment, few places are as saturated with history and personality as Asbury Park, New Jersey. A city that pulses with life and artistry, its movie theaters are more than mere venues to watch films. They are cherished emblems of the city's culture and history. Let's explore these cinematic gems, capturing the essence of each establishment and its impact on the local community.
The Paramount Theatre: A Pillar of History
The Paramount Theatre is one of Asbury Park's most iconic landmarks, oozing with an unparalleled air of grandeur. Built in the roaring twenties, it's an architectural beauty combining atmospheric style and opulence with modern comfort.
As a symbol of America's "Jazz Age," it's seen the evolution of the cinematic world, from silent films to the colorful tapestry of today's digital media. This venue stands as a testament to the resilience and timeless charm of old cinema houses. Serving as a gathering spot during the Great Depression, it provided solace during tough times and has continued to be a beacon of communal entertainment and culture.
The Paramount Theatre Today
While preserving its historical roots, The Paramount Theatre has embraced the future with open arms. It hosts a diverse range of events, from film festivals to concerts and stage plays, encouraging a culture of inclusivity and variety.
The theatre also champions independent filmmakers and their work. It offers them a platform to showcase their talent, providing a captivating blend of mainstream and indie films for the audience. As a testament to its commitment to progression, the Paramount is at the forefront of eco-friendly initiatives, with energy-efficient lighting and waste recycling programs.
The ShowRoom Cinema: Art, Indie, and Culture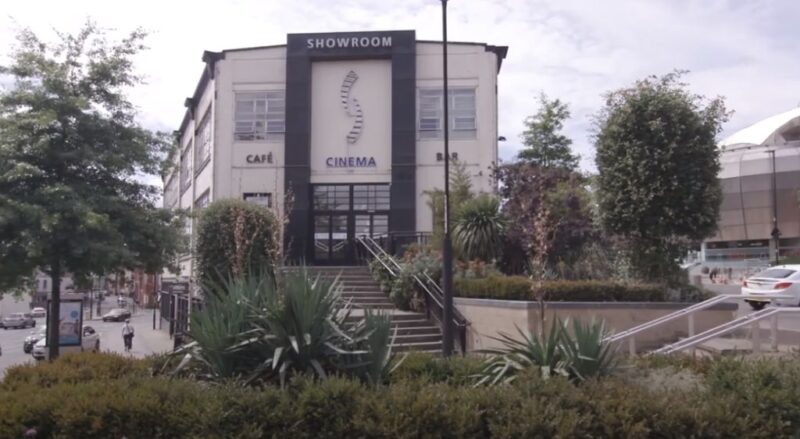 An independent cinema, The ShowRoom is the embodiment of contemporary cinematic diversity. Opened in 2009 by film enthusiasts Michael Sodano and Nancy Sabino, it has become a magnet for lovers of art, indie, and foreign films.
The ShowRoom takes pride in its small-scale ambiance that helps maintain a sense of intimacy and engagement. The founders, who believe in the transformative power of cinema, emphasize delivering a blend of thought-provoking narratives and visually appealing artistry. Today, the venue stands as a testament to the appeal of off-beat, independent films.
The ShowRoom Cinema's Influence on Asbury Park's Film Scene
The ShowRoom is more than a movie theater; it's a community space. Its influence extends beyond showcasing films to fostering a sense of unity and sparking conversations among locals. Post-film discussions, Q&A sessions with filmmakers, and collaboration with local schools for educational programs are just some ways it enhances community engagement.
The ShowRoom has also carved out a niche in hosting film-related events. Its annual Indie Street Film Festival is a celebration of independent filmmaking, drawing artists and enthusiasts from across the nation, thus solidifying Asbury Park's standing as a cultural hub.
The Baronet: Sky-high Cinema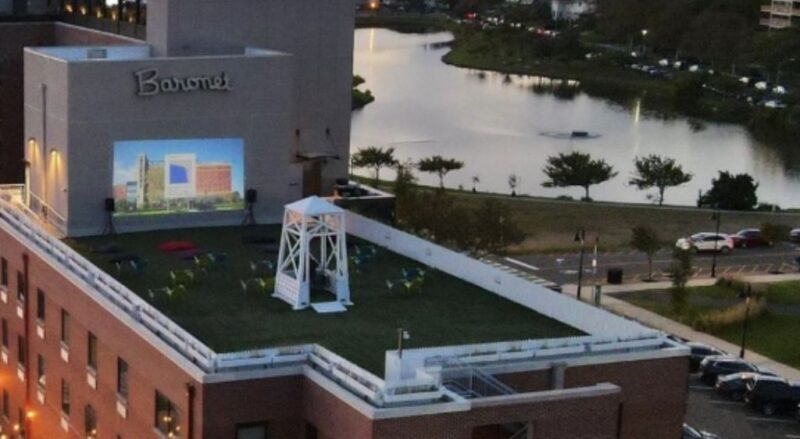 When discussing unique cinema experiences in Asbury Park, it would be remiss not to mention The Baronet. Located on the roof of The Asbury Hotel, it presents the joy of watching movies under the stars.
The Baronet, with its 20-foot screen and skyline view, captures the essence of an outdoor theater, blending it with a sense of modern flair. Its programming is carefully selected, often featuring classics, cult favorites, and family films, which adds to its appeal for both locals and tourists.
The Role of The Baronet in Asbury Park's Vibrant Nightlife
The Baronet not only offers a stellar cinematic experience but also contributes to Asbury Park's vibrant nightlife. Pre-show, visitors can explore the Asbury Hotel's rooftop bar for cocktails and small plates, transforming a simple movie night into a comprehensive evening out.
Furthermore, the Baronet often collaborates with local businesses for themed events. These include nights dedicated to 80s classics with era-appropriate cocktails or family nights with local food truck partnerships, boosting the local economy and adding variety to the moviegoing experience.
Drive-in Movie Theaters: A Nostalgic Resurgence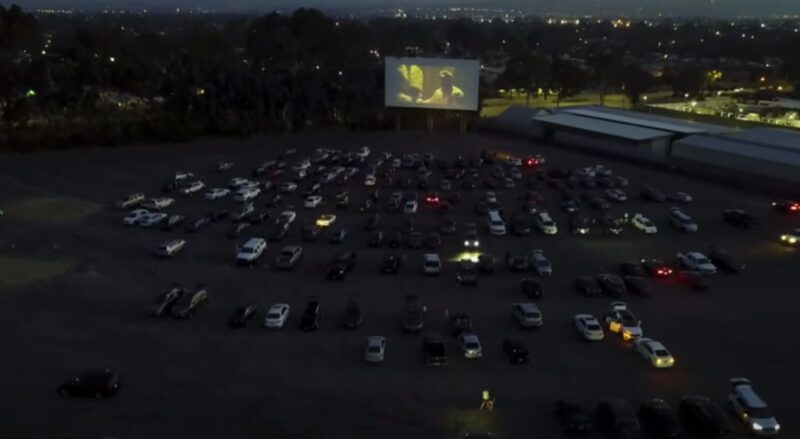 Drive-in movie theaters hold a cherished spot in American pop culture. Asbury Park's neighboring towns, like Wall Township and Vineland, offer a slice of this nostalgia, featuring the Delsea Drive-In and the Swap Shop Drive-In, respectively.
These venues transport visitors back to the 1950s, offering a blend of the past and present. Modern digital projectors deliver crystal clear images on huge outdoor screens, while the cozy confines of your car provide an intimate viewing experience. Most of these venues are seasonal, functioning from spring to fall, and often featuring double features.
Impacts of Drive-in Theaters on the Local Film Culture
Drive-in theaters in the vicinity of Asbury Park have played an important role in preserving the classic Americana film experience. They've not only offered an alternative viewing option but also helped keep the cinema culture alive during the pandemic when traditional theaters had to shut their doors.
Moreover, these drive-ins are also known for their retro-themed diner food, offering an all-around nostalgic experience. The combination of films, food, and unique ambiance adds a different dimension to Asbury Park's cinematic landscape.
Film Festivals: Celebrating the Power of Cinema
Among Asbury Park's most vibrant cinematic events is the Garden State Film Festival. This annual event celebrates the art of filmmaking, featuring works from both established and aspiring New Jersey artists. The festival also conducts workshops, panel discussions, and networking events, offering learning and growth opportunities for filmmakers and film enthusiasts alike.
Asbury Park Music & Film Festival: Where Music and Cinema Converge
Another noteworthy event is the Asbury Park Music & Film Festival. This festival brings together music and cinema, celebrating their intersection in a city known for its musical heritage. From music documentaries to live performances, the festival encapsulates Asbury Park's dual love for music and film, contributing significantly to its cultural richness.
Why Asbury Park is a Must-Visit for Movie Lovers
A Melting Pot of Diverse Cinematic Experiences
Asbury Park offers a spectrum of cinematic experiences. From the grandeur of the Paramount Theatre to the indie spirit of the ShowRoom, and from rooftop screenings at the Baronet to nostalgic drive-in theaters, there's something for every movie enthusiast. The city's theaters are committed to delivering a diverse range of films, ensuring that audiences always have a wide selection to choose from.
A City that Celebrates Cinema
But Asbury Park isn't just about the movies; it's about the celebration of cinema. This is evident in its robust lineup of film festivals and community events that promote dialogue and appreciation for the art form. Here, cinema is an immersive experience woven into the city's culture and social fabric.
Asbury Park's theaters are not just places to watch a film. They are spaces that cultivate community, inspire conversations, and champion the art of filmmaking. They're integral to the city's identity and a must-visit for any movie lover.
Movie Theaters as Economic Drivers
Movie theaters play a crucial role in Asbury Park's economy. They attract a steady stream of locals and tourists, boosting business for local eateries and shops. The Paramount Theatre, for instance, is known to draw large crowds, particularly during film festivals and special events.
Moreover, theaters like the Baronet and ShowRoom have spurred economic growth by offering employment opportunities and supporting local businesses. The Baronet's collaborations with local food trucks and The ShowRoom's dedication to promoting local art are prime examples of how cinemas contribute to Asbury Park's economy.
Future Economic Impacts
The continued growth of Asbury Park's movie theaters, coupled with the expansion of film festivals, is expected to bring increased tourism and employment. The growth of drive-in cinemas and rooftop screenings is also likely to create new avenues for local businesses.
Additionally, as Asbury Park solidifies its reputation as a filming location, it could attract larger film projects, creating further economic opportunities. Thus, movie theaters and the broader film industry are poised to be key drivers of Asbury Park's economic growth.
FAQs
Are there any outdoor movie options in Asbury Park, NJ?
Yes, The Asbury Hotel offers a unique experience with its "Movies On The Roof" program, providing panoramic views over Asbury Park and the Atlantic Ocean.
Are there any closed theaters in Asbury Park, NJ?
Yes, some theaters, like the ShowRoom Cinema Asbury Park, have closed permanently.
What are the showtimes for the theaters in Asbury Park, NJ?
Showtimes vary depending on the theater and the movie. It's best to check the respective theater's website or call them for the most accurate and up-to-date showtimes.
Are there any special events or performances at the theaters in Asbury Park, NJ?
Yes, some theaters like the Paramount Theatre, host live performances thanks to their superior acoustics and stage visibility. It's recommended to check their website or contact them for information on upcoming events.
Final Words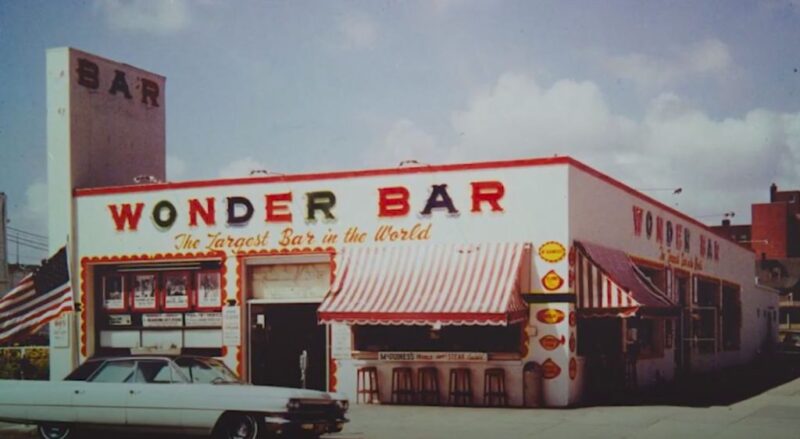 So, whether you're a film enthusiast, a history buff, or someone seeking unique experiences, the movie theaters of Asbury Park offer a captivating journey that you won't want to miss. Immerse yourself in the city's rich cinematic culture and discover why Asbury Park is indeed a haven for movie lovers.